Now it is difficult not to get lost in the huge number of films that cinema provides us with and not to miss something worthy. We will try to help in solving this complex problem.
"Old Henry" (2021)
Dir: Potsi Ponziroli Cast: Tim Blake Nelson, Scott Hayes, Gavin Lewis (Western genre)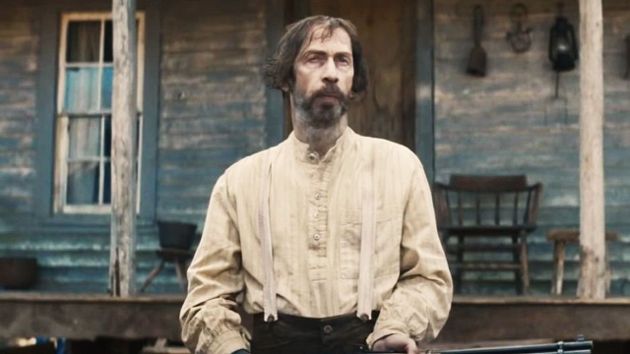 Despite the fact that this is the debut film of the Italian P. Ponziroli (he also wrote the script), he managed to receive an award in the category "Special Mention" at the Venice Film Festival in 2021. This is a classic western. In the story, a widowed farmer Henry and his son give shelter to a wounded stranger with a full bag of money, who says that he is a sheriff and took the money from the bandits. The film is shot in gloomy tones with gray landscapes and a slow, but not drawn-out narrative, which is compensated by a powerful denouement. This is purely a male movie. There is no female role in it. The picture will not become a classic, but it is a strong and solid representative of the genre.
"Paranormal" (2021)
Dir.: Eskil Vogt Cast: Raquel Len6ora Flottum, Alva Brinsmo Ramstad, Sam Ashraf, Mina Yasmine Asheim (genre - drama, fantasy, horror)
A film by the popular Norwegian director and screenwriter E. Vogt, winner and nominee for several major awards, including the Oscar. The film tells about a 9-year-old girl who, with her parents and older sister, who is autistic, moves to a new house, where she meets a couple of strange guys with supernatural abilities. At first, it seems to children just entertainment, but their abilities are enhanced and entertainment crosses some line. The film explores the limits of child abuse that adults may not see. The main plot moves are not brand new and have already been used in other films about child abuse. But the picture has something to surprise the viewer.
"Lost Illusions" (2021)
dir.: Xavier Giannoli, cast: Benjamin Voisin, Xavier Dolan, Vincent Lacoste, Cecile de France (genre - drama, melodrama, history)
Screen adaptation of the novel by Honore de Balzac, which became a triumphant French cinema and received 7 Cesar awards. France at the beginning of the 19th century The young provincial from Angouleme Lucien, using the patronage of his mistress, decides to conquer Paris with his romantic poems. But as soon as the couple arrives in the capital, they immediately realize that other laws apply here. The authors of the picture quite carefully treated the original source, but the story looks modern and fresh.
"Hero" (2021)
dir.: Asghar Farhadi, cast: Amir Jadidi, Sahar Goldost, Sarina Farhadi, Mohsen Thanabande (genre - drama)
An excellent example of Iranian auteur cinema, which has won awards including the Grand Prix at the Cannes Film Festival. Director A. Farhadi is a favorite of festivals and the owner of two Oscars. The hero of the film - the artist is in debtor's prison, but he is given a couple of days to settle things with creditors. At this time, his girlfriend finds a bag with gold coins that can cover half of the debt, but the hero, for that he is a hero, that he decides to return the bag to the owner. A strong personal and purely festival drama came out with an excursion into the world of closed Iran and with characters who act in their own system of values.
"Four Good Days" (2020)
Dir.: Rodrigo Garcia Cast: Glenn Close, Mila Kunis, Carla Gallo, Stephen Root (genre - drama)
R. Garcia's film covers four days in the life of a drug addict. This is the time that separates the drug addicted girl from the saving injection that blocks the action of opiates. It turns out that this is the girl's 15th attempt to get out of drug addiction. She comes to her mother for help. A period of four days for mother and daughter turns out to be almost endless and contains past grievances and new conflicts that still torment them for years, doubts and questions that have no answer. This picture will not stand on a par with cult films of the same subject, but it has its own zest and will definitely find its audience.
If you liked the article, do not be greedy: like, subscribe to the channel. You can always write your opinion in the comments.
---------------
best movies of the year,best movies of 2021,movies,best of 2021,best movies,top 10 movies of 2021,best movies of 2021 so far,movie,best movies 2021,best movies of the decade,action movies 2021,best movies of the year so far,amazing love: the story of hosea movie,action movies,movies 2021 full movie,best movies of all time,amazing love: the story of hosea - full movie,movie list,action movies 2021 full movie,movie of the year,2020-21 season