Here, it would seem, is the other side of the earth - Ethiopia, the wilderness, people here clearly have no idea how to update the firmware on an iPhone, not like we are here, in the center of the world (this is me, of course, with irony). On the other hand, in some ways the Ethiopian tribes are similar to us, we are all, in general, people. For example, women want to be beautiful. Local girls (from the Mursi and Surma tribes) do not dream of Dolce & Gabbana and Bulgari, they wear wooden or clay discs the size of a tea saucer in their lips. Photographer Randy Olson told how everything works on the other side of the world:

"To relax, they go to a bar. In the photo: the walls of this bar are made of clay, the floor is covered with a layer of packed garbage and old bottle caps. But for a Suri woman sipping honey beer over a clay record in her lip, the shabby bar is top of the Western chic, as well as strong cheap alcohol, which began to be brought in large quantities to this wilderness in southwestern Ethiopia."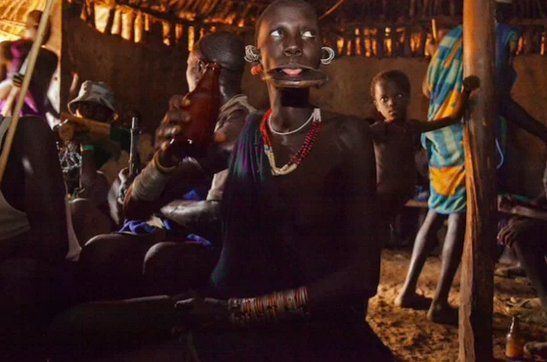 "Or here is another girl - Bacha, her husband Kornan died (members of the warring tribe lured him to them under the pretext of trade). Thoughts of retribution do not leave this young girl. After the death of her husband Bacha, for two years (longer than required by local custom) in mourning - removed all her jewelry, wrapped herself in rough animal skins, grew her hair and did not comb her hair. The woman refused to appear in public until the elders and relatives almost forcibly dragged her out of the hut. In the end, she agreed to cut her hair and put it back on bracelets and necklaces, but never completely recovered.When she had a suitor, she rejected him.Bacha keeps the things of her murdered husband - clothes, beads.And also his AK-47.
She talks reluctantly about the machine gun. "I decided to leave it for my sons. So that the boys can handle him when they grow up. Bachi has a stern look. When her son grows up, she will certainly tell him about the death of his father. And then he will hand him his father's machine gun. There can be no doubt about that."