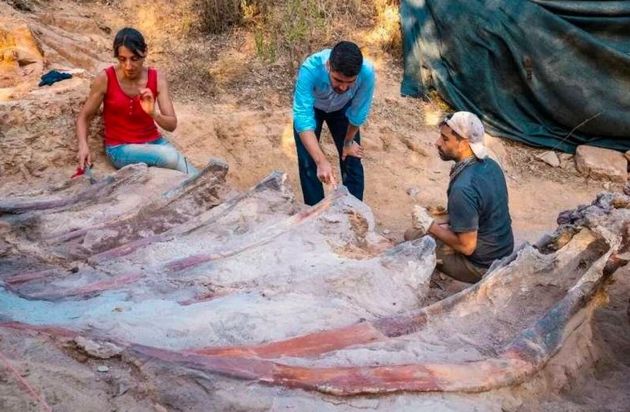 The fossils were discovered in the courtyard of a resident of the city of Pombal in western Portugal.
Digging in the yard of your own house, you hardly expect to find anything more interesting than a thicket of weeds. However, there are exceptions: a resident of Portugal was lucky to find a huge amount of fossilized dinosaur bones on his site.
After examining the skeleton, scientists determined that it belonged to a 25-meter brachiosaurus that lived between 160 and 100 million years ago. It is probably the largest sauropod ever found in Europe.
"It is unusual to find all the ribs of an animal in this form, not to mention the fact that they have retained their original anatomical position. This mode of preservation is relatively uncommon in the fossil record of dinosaurs, in particular sauropods from the Portuguese Upper Jurassic," Elisabeth Malafaia, paleontologist at the University of Lisbon.
In 2017, a Pombal homeowner first noticed fragments of fossilized bones in his yard during construction work. He contacted a research team that carried out excavations that same year.
But just earlier this month, Portuguese and Spanish paleontologists announced that they had found a sauropod approximately 12 meters high and 25 meters long as a result of excavations! To date, elements of the axial skeleton of the dinosaur have already been discovered, including vertebrae and ribs, which indicate that it was a brachiosaurus.
Dinosaurs from the group of brachiosaurs (Brachiosauridae) lived in the interval from the Upper Jurassic to the Lower Cretaceous geological period. Unlike other sauropods, they have longer forelimbs than hind limbs: this has resulted in a longer torso and proportionally shorter tail.
In the photo: a life-size model of a brachiosaurus in the Spanish Dinosaur Park