Met a colleague on the street. Inna Sergeevna is many years younger than me, and is now on maternity leave. Son year, and this year she plans to go to work.
I had not seen her for a long time, so we decided to go to a cafe, where she told me a story over a cup of coffee. The whole story will be conducted on her behalf.
Brief history of life
- My husband and I have been married for six years, until recently we did not even think about children. We wanted to start saving money.
We were lucky that at that time we still had our own housing - my grandmother bequeathed her house to us, and she herself moved to her parents. They helped put the house in order - they installed water, gas, sewerage.
And now it's time to think about children. Many were surprised that we approached this issue so rationally, they believed that the child should appear spontaneously.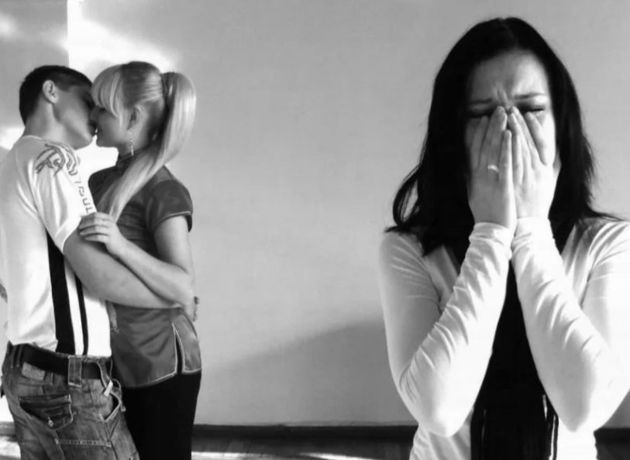 As for me, the opposite is true - giving birth without any calculation is complete stupidity. Perhaps in someone's eyes I look cynical, but sometimes love alone is not enough. Isn't it true?
Recently I found out that my husband is cheating on me. Quite by accident. He works in Chelyabinsk, thirty kilometers from home, goes there every day. My laptop broke and I decided to buy a new one.
I had money, I ordered it on the Internet and it was not too expensive. There is no such store in our village, we had to go to the city. An SMS came, I left with my father for an order, and my son stayed with my grandmother.
After they took the order, I decided to drop into the shopping center and buy chemicals for the household. It's much cheaper there than here. We went with my father, we take the goods. I paid and at the exit I meet a familiar face - a husband with some woman walks arm in arm ...
I tell him:
- Who is it?
And she answered me:
- What do you want from my man?
"Let's talk at home," I replied.
In the evening he came home and began to accuse me of quarreling with Sveta. He explains all this by the fact that he is a man and he has such a nature, well, he cannot be with one woman. In general, he holds me for a fool, and does not want to get divorced because of the child.
I had some time to think while I was returning home. Therefore, I did not immediately make a scandal, but we began to sleep in separate rooms. I explained to him that I was not going to share it with anyone yet.
Early Monday morning, he found all the shirts dirty in the laundry basket. As soon as he opened his mouth, I told him:
- Since you were with Sveta this week, let her wash and clean for you now. Somehow you walk with her, and all the household chores are on me. From today you will cook for yourself, I will do it only for myself and my son.
In the evening, he washed everything, while sighing heavily. Probably thought I'd fall for it. But I didn't even get close to him. He lived for several days on sandwiches, I see that he does not like it.
Yesterday I arrived with flowers and wine:
We need to talk, we're adults. I am an adult, a man, I cannot change myself. - I am also an adult, I have my own principles. You have a choice - either your Sveta or your family.
I did not hear an answer from him, and in the meantime I had already collected all his suitcases with things. Today we need to get an exact answer: either let him return to the family, or let him go to his mistress.